Youngsters FC Driebergen score for Africa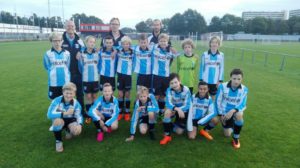 "As of now all goals count double!", said the coach to the 12-year olds of FC Driebergen. "Ha, how would that be possible?" the boys asked. "Well", said the coach, "for every goal you score, your parents will donate € 1,50 to Education Runway. This way you not only score for FC Driebergen but also for Africa."
And that gave the boys an extra boost to shoot as many balls as possible in the opponents goal. At the end of the season the team had scored for a total amount of € 93! Now, up to you to calculate how many goals they scored! FC Utrecht would be happy with that result!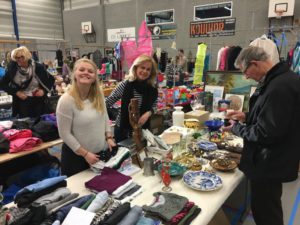 Education Runway sells at Fleamarket
On an early cold Sunday morning in March 2017, Evelyn and Annoek went to the fleamarket in Huizen to sell all kinds of bric-à-brac for our good cause. Not only did they have a very pleasant day where they turned into professional sellers, they also raised the considerable amount of € 185 for the various projects of Education Runway.
Booksales at Bussum Cultureel at low due bad weather in 2017 but a success again in 2018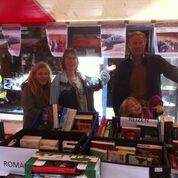 In September 2017 Isabella, Sonja and Joost sold books again at Bussum Cultureel for the 3rd consecutive year, in order to raise money for Education Runway. This year however, due to very poor weather, most potential buyers stayed home. While in the previous 2 years the income generated was substantial, this year a meagre € 106 was raised. But 2018 showed much better weather and after a good day sales Sonja and Joost had raised another € 256 for Education Runway.
OBS Goudenregen Practice what they Preach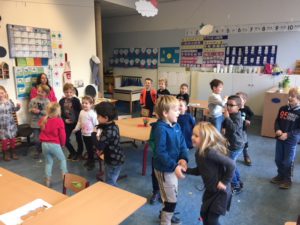 All pupils of groups 1 until 8 at public elementary school Goudenregen in Hilversum worked very hard to raise as much as possible money for Kenyan Odiwuor Oyier, in short Odi, to enable him to finalize his studies to become a schoolteacher. Following the succes in schoolyear 2016/17 where they raised € 1.180 for Emelda Otieno also from Kenya, the school and pupils decided to help Odi as well. During the Christmas market at school in December 2017, the children already raised € 700 by selling their selfmade Christmas decorations. In total the 2-year efforts of all pupils resulted in raising close to € 2.400 for Education Runway.
In January 2018 Michiel en Joost made a short movie with all kids singing Jambo Bwane, and this short movie was sent to Odi. This project at Goudenregenschool came to an end in June 2018 and we thank all pupils and teachers very, very much for their support!
5th Winetasting at ABN AMRO Bank once again a huge success

The 5th Winetasting evening held at and with the ABN AMRO Bank in Bussum in November 2017 once again was a big success. At this evening lead by wine master Johan Snethlage of fa. Bart Wine-importers, 13 different wines were tasted and sold. The result of our fundraising was a fantastic € 2.000 for Education Runway.  We thank all participants and above all the ABN AMRO and fa. Bart.
The 6th edition of this wine-tasting evening will be held at Friday evening 08 November 2019.
Charity Fancy Fair at Roland Holst College in Hilversum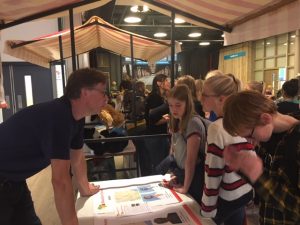 In October 2018 Michiel and Joost were able to participate at this Charity Fancy Fair at the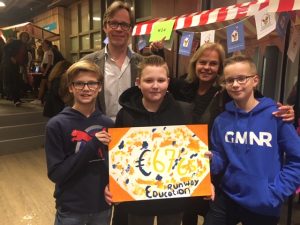 Roland Holst High School in Hilversum where all 250 1st year pupils visited 12 charity foundations and
had to select the one they were going to support to raise money. Eventually 11 pupils chose to support
Education Runway and over the past months they had to start a business to raise money.
On February 13th, 2019 the final results were made public and we are very happy to announce that the
children raised € 460 for Education Runway. What a fantastic result!
Sponsor-activities in 2019
On June 15th Judith en Evelyn on behalf of Stichting Education Runway took part at the 'Gooise Goede Doelenmarkt' (Charity Fair) in Bussum.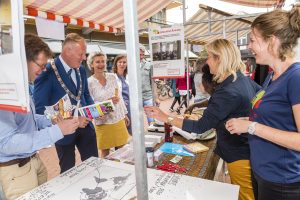 This event was organizaed for the first time and was accompanied by live music. We had invited Felomen from Gambia who made sambusas and
spring rolls to sell and together with us attracted many enthousiastic people towards our stand. Even the Mayor of Gooise Meren visited our stand
and asked about our activities, whilst enjoying a sambusa.
on September 7th Education Runway (Sonja & Joost) will be selling books again during Bussum Cultureel. On October 17th Education Runway
will be present again at the Roland Holst College in Hilversum, and last but not least on November 8th the annual wine-tasting event at ABN AMRO
is scheduled.